Garage Towel Dispenser

After many years of using the Scott Blue shop towels or Rags in a box for the throw away paper towels, I saw this at a body shop. Felt that it would be about the best thing in my garage. This LARGE roll of paper towels or shop rags depending on which refill you get would last a long while and I wouldn't have to keep a stack of small roll paper towels stashed on a shelf.

The dispenser and towels are Kimberly Clark brand and I got them all from Amazon. I picked up the floor standing holder and 2 types of towels. The white are more paper towel style, like the old Scott blue ones, and the Pink ones are more like a reusable rag, although still a paper towel they at about 2x the thickness of the standard white ones. The white roll has 950 (yes) LARGE sheets and the Red roll of rag style has about 450.

They also have wall mount version of the dispenser that I also picked up but have not figured out where to mount the massive roll.

Here's what I got (All from Amazon, other may have them as well)

WypAll Floor Stand towel dispenser (about $17)
WypAll Wall Mount towel dispenser (about $17)
WypAll L30 White Paper towels L30 style 950 sheet roll (about $40)
WypAll X80 Red HD reusable paper towels 450 sheet roll (about $55)

Note that WypAll/Kimberly Clark has many different grade and style of towels, from low cost high count, to the reusable ones. Check out the selection here WypAll Rolls at Amazon, lots of options!

While the rolls are not cheap, they are in some cases a bit better price then getting a case of smaller blue shop towels. Even if they were the same or a bit more, it's way nicer to have the giant roll of never ending paper towels!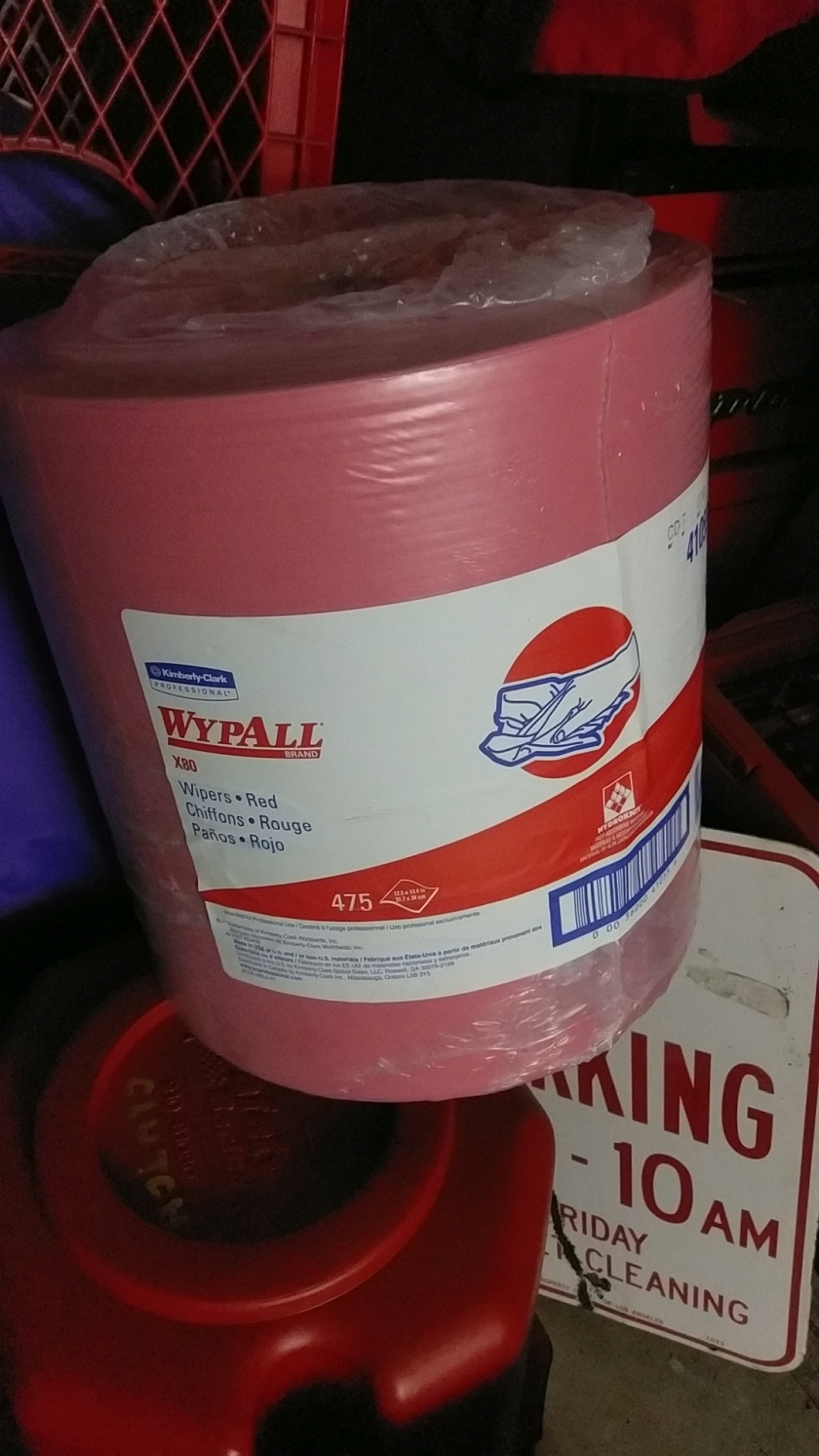 WypAll X80


These are touted as reusable and very durable towels. I have not yet cracked them open as I didn't want them just collecting dust until I could get the wall mount unit up. These are a bit smaller roll then the L30 towels, but have around 50% less sheets. So they are thick! They cost a bunch more, but in the long run I think these are going to be the go to towel.
WypAll L30 Towels and Floor Dispenser


I picked these up to see how the cheaper towels would work. These are nice and soft, but can tear a bit easier if not careful. The absorb a ton of fluids and make good low cost shop clean up. I think overall these are a bit less strong than the typical Scott Blue shop towels, but they will do just fine. Remember their are many options for towels, some are stronger some are softer, check out the Kimberly Clark WypAll site for details on each series. Lots of options and details.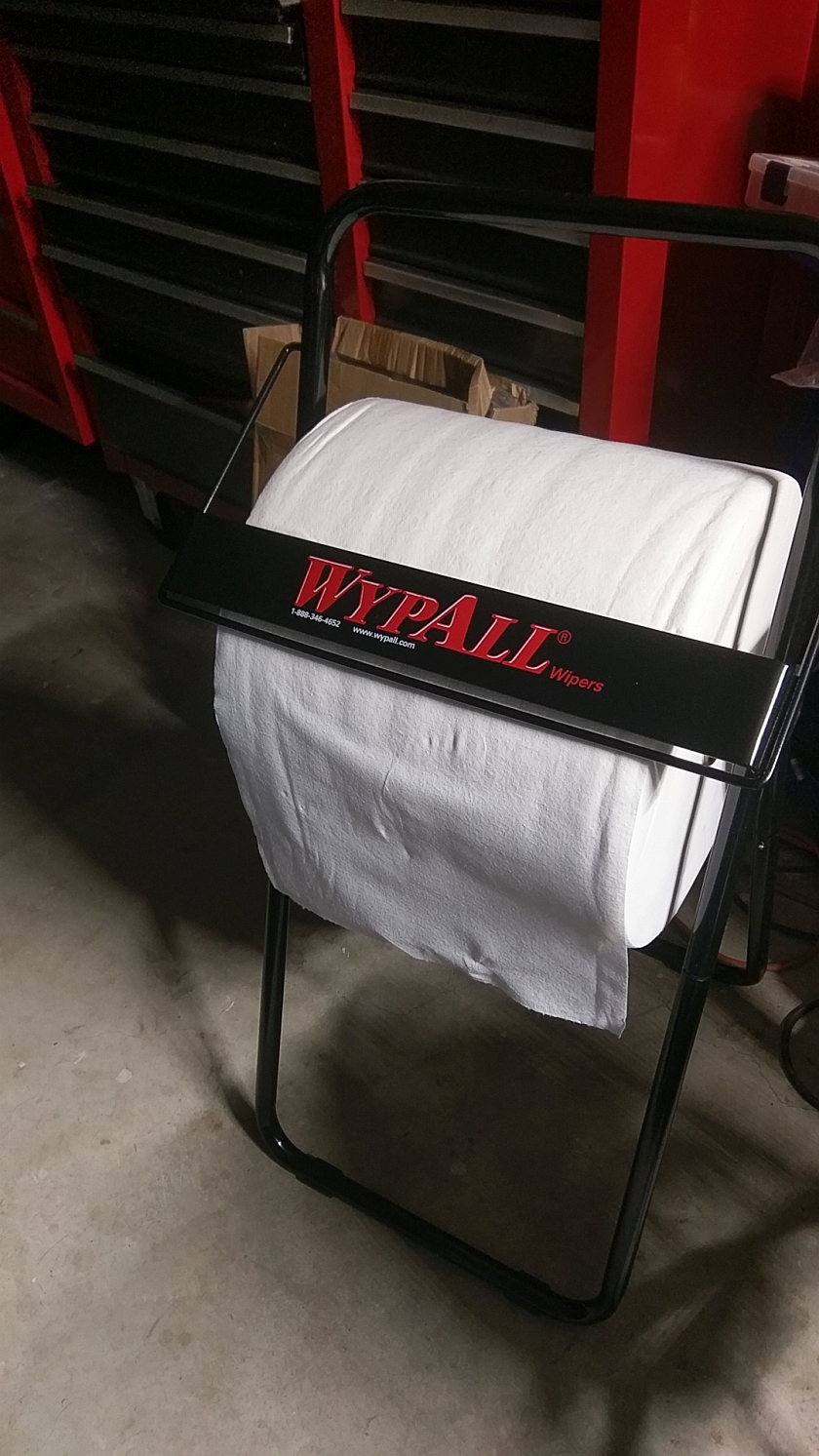 WypAll Wall Dispenser


This is the wall dispenser I picked up as well. This is just a picture from the Kimberly Clark site, mine is sitting in a box looking for an empty spot on the wall.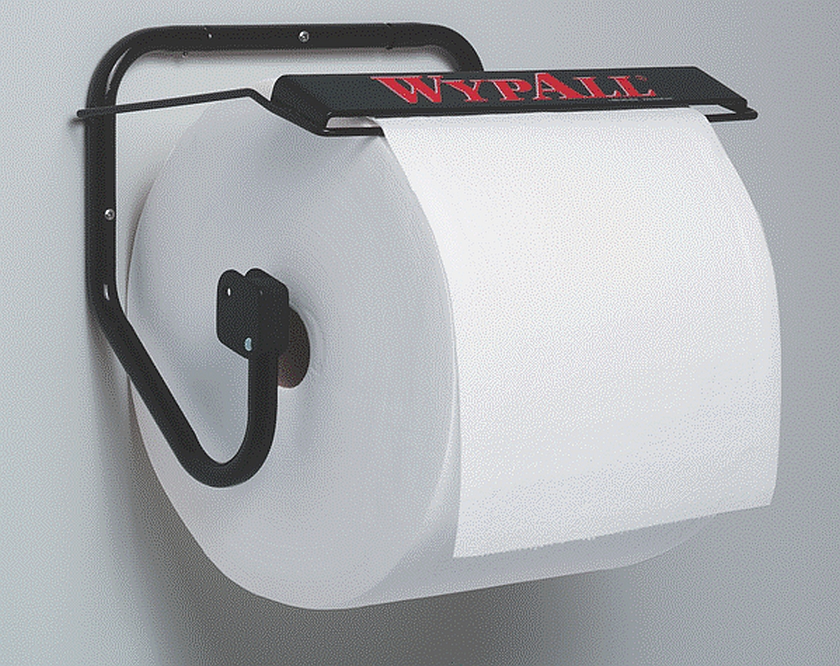 WypAll Sheet Size Comparison


The blue sheet is the Scott's shop towel, and the white is one from the WypAll L30 roll. Much larger. The blue Scott shop towels are a bit more dense than the L30 towels, and I would likely try a different style next time. Again, check out the Kimberly Clark website for details. Since Scott towels are also made by Kimberly Clark I would expect they have the same product on one of the larger WypAll rolls.


Conclusion

This was a fun tool for the garage, HUGE roll of paper towels for the HUGE mistakes I can often make. Be sure and read up on the different colors, grades, and textures of all the WypAll rolls that are available, some may do better then others. For now I have 1 Roll of the white L30 and 1 Roll of the X80 and it's going to be a long time before I have to refill so until I do, that's what I got. The last note was that the stands are both pretty well made for how little they cost, nothing but snap together and ready to go. Just need to find a place for the large roll for the wall mount, preferably away from the sparks of the welding area!

Have at it and get your project done!